---
Home | Chef Tracy Edelhertz
---
Chef Tracy Edelhertz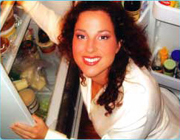 I started cooking at the age of 7. My grandmother's were the ones to put me on the culinary path. It was more enlivening being with them in the kitchen than watching sports in the living room with the grandpa's. The laughing and joking while the pots were simmering and steaming on the stove and the aromatic smells are what attracted me. They taught me all the basics and some old family secrets. We had such a wonderful time that before long I was hooked. I also used to watch Julia Childs on TV and think "this is going to be me when I get older." It just all fit. I was 7 and knew where my path was going to go.
This path then turned professional when I turned 14 and started working in an Italian bakery. The owner was a great teacher and taught me all the classics. Baking was a lot of fun for me but I was eager to learn more. I became a prep cook in a restaurant after school for another great friend and teacher and then after graduation from high school, I went on to Johnson & Wales University where I graduated with a culinary degree. Next stop was Kennebunkport, Maine where I worked at a Relais Chateau inn and restaurant named "The White Barn Inn" and had the distinct honor of cooking for the president on different occasions as well as other celebrities. The food there was innovative and unique especially for Maine and was soon attracting a lot of attention. The AAA 5 star rating was inevitable. The upscale style fit me perfectly except I knew there would be no movement career wise so I left and moved to Boston to become a sous chef for a great restaurant called Isabella's in the posh Back Bay area. I was also the dessert chef and received accolades from the Boston Globe for my cheesecake. This menu was the new emerging American style cuisine. It was a great experience running a kitchen, but unfortunately the restaurant closed due to poor money management by the owners.
I went to work at the Hyatt with the opening team at Logan Airport for more job security with a corporation and realized that corporate and restaurant style wasn't what I wanted to do. It is too restrictive and too much repetition for me. I then moved to the west coast and became involved in catering.
My first party was a magical experience. Here I was able to create the dishes the way I wanted and present them utilizing whatever colors and textures fit the mood and theme of the event. It occurred to me then that there was no repetition. The dishes would be different for each party and the presentation could be changed to whatever my mind created. I realized that this was the place for me in the culinary world. I partnered with a friend and started "Delectables Catering." Not too long after an opportunity to move to Maui, Hawaii was offered to me to become a private chef for one of the most prestigious families on the island. Eager to learn and expand my experience, I accepted. I was a private chef for the senior Baldwin's for 3 years until they passed. It was the end of a legacy for Maui but the beginning of Triptop Productions & Catering.
Realizing my dream of having my own business and loving to cook for smaller numbers to keep the food as perfect as possible became the foundation of my business. I can match any theme or desire my clients have for their event.
Since I love to learn, I have studied many different ethnic styles of cuisine and that knowledge keeps expanding to include more. The cultural diversity only makes it all the more appealing, knowing that with every dish, I am learning about someone else's world and sharing their history and culture. Every ethnicity you can imagine, I have studied to one degree or another and I am always happily learning more and more. I study everything from the traditional to the unusual and love them all. Some examples of these are Indian, Middle Eastern, Spanish, Portuguese, Chinese, Thai, Vietnamese, Japanese, Mexican, Polynesian and the list goes on. My goal is to travel the world and bring back a taste of different cultures for my clients and students here on Maui.
By having this ethnic knowledge and loving to throw parties, the fantasy themed party concept was born. Taking a look at my friends and associates, I realized that standing before me was the team needed to put together incredible themed parties. Any idea my clients have, we can create and I can match the food. Some ideas for these parties range from Middle Eastern and Indian all the way to Red Room and Cinderella's Palace. This includes entertainment, decorations, staff, bartenders, and other planning requests.
After sharing culinary information with friends, I decided to share my knowledge with the public here on Maui by teaching a cooking class in the Pace Program at MCC and have been there for 2 ½ years. I've written a food column for Hype Magazine on Oahu for about 3 years and I write an email newsletter for Mana Foods, one of the largest health food stores on Maui that comes out once a month. This gave me the idea to teach In-Home Cooking Classes for clients who don't have time to come to a class or for groups that would like to have a more private lesson and learn whatever they want to know. Teaching feels natural to me and I love to see the look of shock and joy on someone's face when they recreate a dish that brings them comfort and happiness.
I create my own recipes, which I am currently compiling for a cookbook. Creating my own recipes is so much fun for me that in 2004, I entered the Maui Humane Society's Dessert Competition with my own recipe for Okinawan Sweet Potato Cheesecake with a Macadamia Shortbread Crust. This was a way for me to test this dessert on the public. Much to my surprise, I won first place in the island style category and second place overall and people's choice. I won competing against some of the top restaurants on the island. This was a great honor for me and a huge achievement for my business.
Food is like a multi dimensional canvas to me. There is the smell, texture, color and flavor to play with. It is so faceted and diverse as well as cultural and historical. It is the base of the human survival and source of entertainment all at once. I can relate it to listening to your favorite song and having that feeling of joy and ecstasy rise up within you. You just can't help but belt it out at the top of your lungs and sing with your heart. That feeling is what I love to create for guests with food because that is what it does for me.
My preference is what I consider upscale cuisine. This means to me, using only the best ingredients, which usually means organic and sometimes exclusive. The details are important to create that full effect so I pay attention to not only taste but the visual effect as well. I examine every minute detail even down to the cuts to create the most dramatic and fabulous look and a taste you want to remember. When guests taste my food, they understand what that 7 year old girl understood. I'm on the right path.

---
Home | Chef Tracy Edelhertz
---